Who the heck is Richard Sauerman?
Richard Sauerman is The Brand Guy and has been ranked in the Top 30 Brand Global Gurus since 2014
(ranked 10th in 2023)
.
Richard has done the strategic thinking, brand planning and communications  
for over 200 brands in his career, across every business category in just about every market: From iconic brands (Coca-Cola, Microsoft, and Levis) to Australian brands (QBE, Arnott's, Tourism Australia, Mortgage Choice), not-for-profits (CSIRO, Data61, Breast Cancer Trials), and start-ups.
Richard grew up in Cape Town, South Africa. He's lived in London and Bangkok, and Sydney has been his home for thirty five years. He has an MA in English Literature & Philosophy. Richard is a thinker and an humanist, with a massive interest in people and 'the human condition'. He has written two books and appears in the media on brand-related issues.
RICHARD PIONEERED A NEW WAY OF branding
Richard acquired his brand expertise working in the ad industry for multi-national ad agencies Saatchi & Saatchi, Ogilvy & Mather, DDB, McCann-Erickson, and George Patterson Partners.

He left advertising in 2005 to pioneer a new way of doing branding, where everything you do and say as a company, business or organisation must be driven by and aligned to your brand strategy - especially your people and culture.

He works closely with CEOs and Executive, HR and Marketing teams to reboot and reshape their brands, business strategy and marketplace positioning, and he is an Advisory Board member.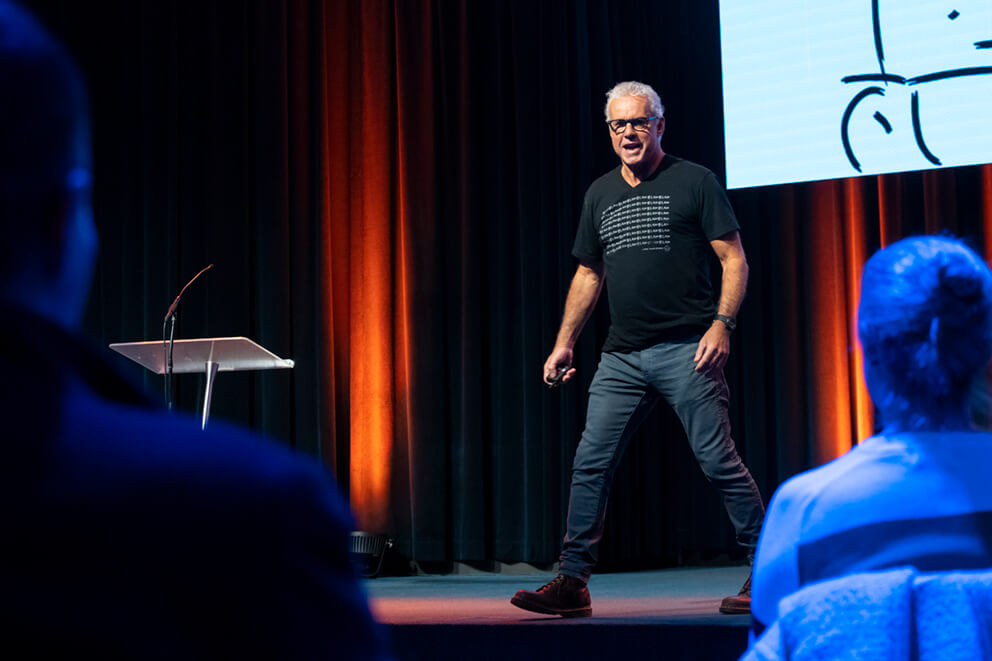 Richard's keynote talks and workshops are a wake up call for people at work
Richard has been motivating audiences through his talks and workshops for twenty years. He has developed an intuitive sense of what makes people tick over his branding and communications career, and he shares his broad range of life experience and knowledge of positive psychology to challenge, inspire and motivate his audiences to new levels of performance. 

Richard is a standout speaker. He delivers keynote talks with a style that is passionate, enthusiastic, provocative, empathetic, and ruthlessly honest. His clients include Clayton Utz, AMP, CBA, TAFE, Fitness First, Surf Lifesaving Australia, News Corp, Prospa, Contiki, Foxtel Media, Nestle, Zurich, Bayer, MFA, Munich Re and Amex.
THOUGHT FOR THE WEEK
Subscribe today to Thought For The Week:
The one email you WILL want to see in your inbox.
HOW TO DO Organisation, company or business branding that stands out, builds trust, engages employees, and keeps customers.
Most industries are saturated with brands that tick all the boxes, don't stand for anything, and don't stand out. They lack impact and connection. They have no power.

Power brands are those that make sense AND are believed, felt and loved. That's Richard's definition of a Power Brand, and that's what his Power Brand Building online course will show you how to do.

Designed for busy, full-time professionals, Power Brand Building is The Brand Guy's full, definitive approach and IP to building your own Power Brand. There is no other course like it today, so seize the day and sign up right away.